Conversational Commerce
Here's What You Need To Know About WhatsApp marketing
Sat Aug 13 2022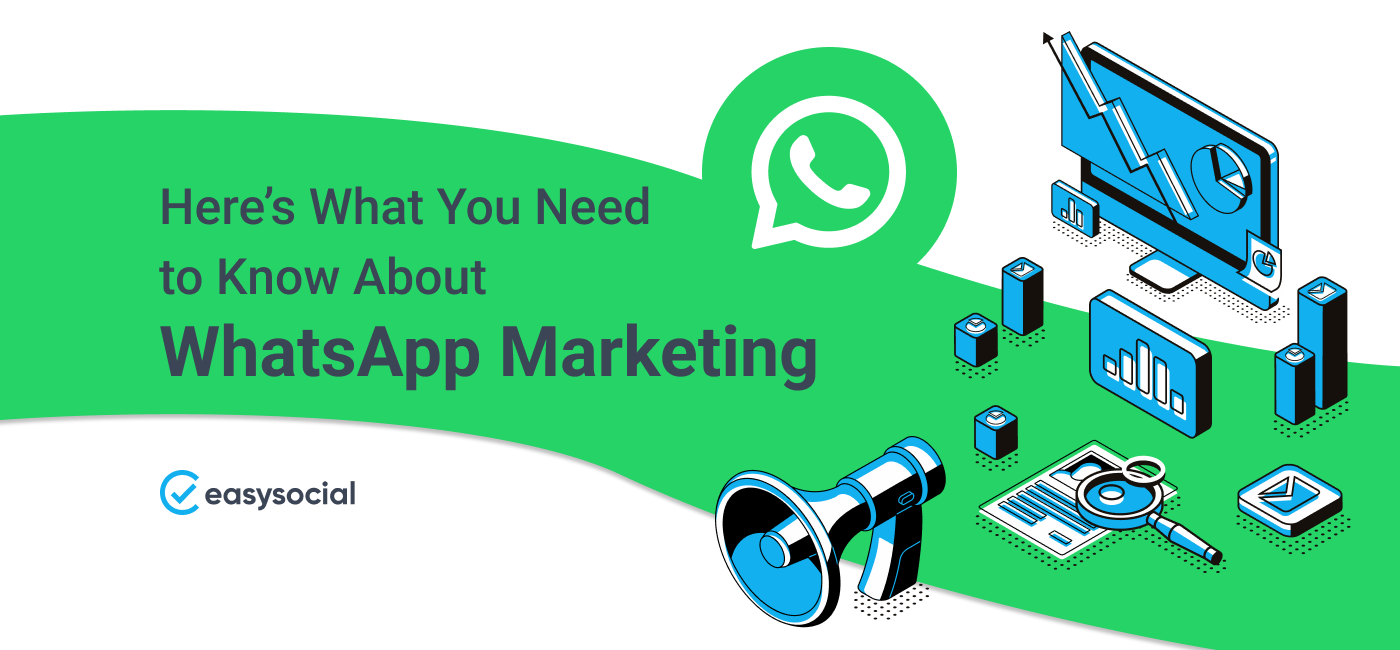 Reaching an overwhelming huge bunch of audience worldwide is something that each and every product-based company is investing in. E-commerce beauty brands like Nykaa to companies with a much greater crowd buildup like Tata Sky and Book My Show have all currently been focused on promoting and increasing the footfall towards their brands by personalized interactions and better query resolution. This practice of engaging with your audience and promoting your sales on the platform is what's called Whatsapp Marketing.
WhatsApp is one of the leading social media platforms that has been a rage, used by almost every individual ubiquitously from professionals to the general crowd. At present, you will find that leading companies like Make My Trip have started to engage their customers in much better interactive and insightful discussions via WhatsApp Chatbots that add to the emotional value points to the customer and the company. WhatsApp Chatbots have broken all the barriers to outreach due to their skillful efficiency and utility, giving a new meaning to WhatsApp marketing.
Why WhatsApp Chatbots are awesome!
With the user base growing up to 2 billion now, when it comes to interacting with a crowd this big at a personal level through messengers, there is no second-guessing to the efficiency of WhatsApp Chatbot - every WhatsApp marketer's go-to tool. You can interconnect to a gigantic bunch, push your sales charts to a better position, and also build a true tie-up using them in the long run.
Chatbots as automated smart interventions of Artificial Intelligence have been a game-changer in the field of marketing. EasySocial is one of the newly mediated WhatsApp Chatbots that have made it just more than a simple conversation-building app that works 24x7. EasySocial WhatsApp Chatbot comes along with automated sales and customer query management systems that not only interact but also give insightful management and sales advice, building trust.
Why your Business needs WhatsApp Marketing
Relying upon mass mailing and online forums is great to promote your brands and properties, unfortunately, due to filtering your brand might not get the maximum reach and leads that you'd expect of it. WhatsApp gives you a direct route to send marketing messages and insights specific to your brands, making you reliable and leading to your customers extending their loyalty towards you. You are more likely to have tabs on what information your customers receive from your end within an entirely encrypted and secure environment.
Not only can you just interact with the customers, but you also create broadcasting messages and group chats for your purposes that can be handled for you by WhatsApp Chatbots and get personalized feedback safe within your secured database. If simple bubble conversations get boring you can securely share multimedia like videos, photos, recording, locations, and whatnot. WhatsApp marketing along with WhatsApp chatbots gives you an edge and provides you with newer and better avenues of doing business like never before.
WhatsApp Marketing Tools and strategy
Bulk messaging tools never go out of style while sending information to a bunch. Why look further into other extensions and apps to do the work for you when you can have it done in a split second with the help of WhatsApp Chatbots. WhatsApp Chatbots are multilinguistic and send more than just scheduled texts to your consumers, making your work a hassle-free experience. You can schedule the bulk messages, multimedia, or documents and just don't have to worry about it anymore.
The most important but often limiting factor to WhatsApp marketing is getting feedback and reviews. After being done with bulk messaging what's left is to know how your customers feel about your products and what new things you could do for them to be inspired for a better future. Most WhatsApp Chatbots like EasySocial come with scheduled automatic follow-up software in them, which make the feedback loop and storing of data accordingly easy and systematic. Now, you can bring in improvements in your products while also revoking your customers' trust in you.
It's not just about building conversations and providing insights that leave the audience astonished, but the attention span as well is a matter of concern. You might have heard a common millennial phrase -' the social media never sleeps ', and it's surprisingly not much farther away from reality; where the customers demand the queries to be resolved instantly. In this modern age, WhatsApp chatbots are designed specifically for the purpose of being able to take down each unique query efficiently almost immediately. This helps build a strong foundation of loyal customers who have emotional connections to your products and brands too.
Tips from experts
Some expert tips to get you started and fueled on your journey of creating a winning WhatsApp Marketing campaign;
Design a unique brand persona: This helps to attract a much engaging and interactive set of users and draw them into the buzz
Personalized insights: gain perspective and inspiration for a better future via your products
Create a Database: Synergistic interaction will help you obtain a better database of reviews, which will help improve your production
Do not leave a cold lead: A customer must not forget about the product or else it may cause them to leave the trail cold.
Know your consumer's intent: Knowing what a customer wants and providing an added price value benefit makes you more approachable to them.
To Conclude
There's no doubt about the fact that WhatsApp marketing is a canon ball of its own when it comes to publicizing and upsizing your brands. WhatsApp Chatbots are simple but specifically designed tools that can play a very vital role in planning out your management and marketing strategies with brilliance. EasySocial WhatsApp Chatbots is one such package that provides you with a nexus of services that makes all the data handling easy and accessible within fewer clicks.
EasySocial WhatsApp chatbots have more than just automated scheduled texting and bulk messaging services to provide. It has Automated sales management and customer service insights that help you engage with your customer and manage sales with ease. Not only can you bulk share messages but other multimedia files like pictures, videos, and locations along with other important documents could also be shared with an enormous customer crowd in seconds. It comes along with a human-like interactive interface and a secure payment Gateway making it more than just an ordinary WhatsApp Chatbot with versatile jobs and utility in multiple fields.
Its motive has been to help you gain perspective of your intended audience and know their aspirations and point of view as well. To get a first-hand experience of EasySocial WhatsApp Chatbots, Click here and try out for yourself.
Want to grow your business faster?
Get Lifetime Free Access
Make your free WhatsApp based chatbot today, automate your business with several industry leading integrations.
Start Now for FREE!