Conversational Commerce
Why WhatsApp ChatBot for Automotive Industries Is a Must-have
Sat Aug 13 2022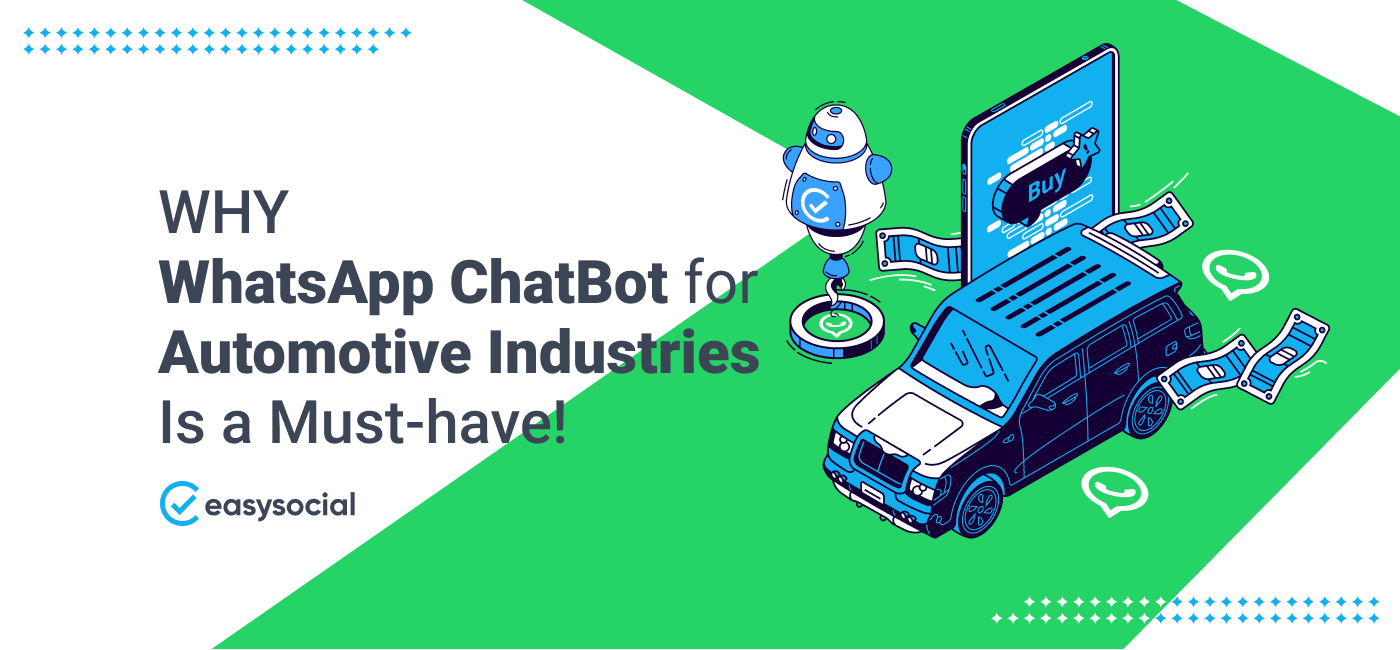 While the automation industry works on strict analogs, their way of interacting with clients can also become much more flexible and effective. Today, we are going to address the fundamentals of using automation in the automobile industry and how everyone from the manufacturers to the dealerships can benefit from it.
WhatsApp is one of India's most preferred social communication platforms and to leverage it for higher customer engagement is exactly what's needed in today's fast-paced world. WhatsApp chatbots can prove to be extremely useful and supportive if you're someone who deals with customers daily and has multiple products and services to offer them.
5 Use Cases for dealerships
Reduced waiting & better assistance
In case you've been living under the rock, let us tell you that supercharged Chatbots like EasySocial can manage up to 1800 inquiries simultaneously! Now, this is just one awesome out of many that you've soon uncovered in this blog. Basically, chatbots send out automated messages to customers reaching out for support and thus, provide much faster and better assistance. Since an automated chatbot is taking up these inquiries, the human factor of doing a limited amount of work in a certain time is eliminated. Appointment & test drive scheduling
With a chatbot, your customer can do much more than just browse through your brochures. Suppose if a customer has to schedule a service repair or get a test drive done. They will contact you through the chatbot and the bot will first ask them all the required information like name, registration number, car model, preferred slot, etc., and once the availability is confirmed, the customer can simply get the appointment scheduled! Easy, hassle-free, and super quick.
Vehicle advisory
Another great thing about chatbots is that you can personalize them as per your business's needs. So, when your customer asks for a recommendation on loans or car insurance, the bot will take all the required data such as their budget, loan term, etc. consecutively, it will suggest to them the best-suited loan plans and insurance plans for them along with all the terms and policies.
Pre-sales & after-sales
Pre-sale inquiries can be really time and energy-consuming as the new lead will always have multiple questions to ask. Also, filtering lead intent from a pool of leads can be a tedious task. In such cases, the EasySocial chatbot can easily take care of all your customer support and lead management woes. It not just responds to all the inquiries efficiently but also channels all the leads in a dedicated lead management system. Furthermore, once a car is bought, the customer continues to have an ending relationship with the dealership. The chatbot will assist your existing customer with their after-sales needs such as service bookings, accidental assistance, damage repair quotes, new offers, and much more!
Road-side assistance
A customer stuck with a car breakdown or some accident will always look for quick help or assistance. In such emergencies, the chatbot can easily guide the customer to self-help by sharing videos or images as per the assistance required.
Top 3 Benefits for WhatsApp Chatbot
Customer satisfaction
When you are giving your customers high priority and personalized attention, there's no way they will be unsatisfied with the service. A chatbot listens to all customers and gives them the needed support within seconds. It can also share multimedia which will give the customer a unique and interactive experience of seeking help from your business and instead of rolling eyes on having to contact your business, they will look forward to this unmatched experience that's also convenient for them. This ensures that no customer goes unheard and every inquiry is resolved, giving you high customer satisfaction.
Lower costs
If you opt for traditional IVR agencies or god forbid, decide to do the customer engagement by yourself, you will definitely end up overspending your budget with less time in hand. So, a chatbot here becomes the most affordable and dynamic tool that can help your business achieve all the sales and support milestones without being heavy on pockets. Additionally, the features they offer can't be found with any other service. So, it's always a wise decision to get automation over human resources.
Better engagement
When you are timely reverting to your customers and attending to every single incoming inquiry, the engagement automatically shoots up. Also, when a customer is getting the only necessary information in return for some basic information, they don't mind engaging with the chatbot. Instead, it helps them more than a phone call will do. They can get all the details in one place, with just one click.
Take it from the big brands
BMW Workshop customer service chatbot
BMW's Munich headquarters is breaking the conventional customer engagement traditions by introducing a car repair service over WhatsApp Chatbot. Nearly 200 customers would hand--in their BMWs for servicing and they had multiple follow-ups. After the company integrated WhatsApp chatbot into their customer servicing system, they got impressive results. Out of 3,800 inquiries, about 3000 were resolved automatically by the chatbot, callback requests dropped by 60% and the recommendation rate rose to 90%!
Honda Two Wheelers chatbot
Honda India has resolved their customer engagement woes with EasySocial - a WhatsApp Chatbot that helps them stay on top of their games when it comes to handling incoming inquiries and lead management. The automotive leader's two-wheeler unit is constructively dealt with by a WhatsApp chatbot that takes up to 1800 inquiries simultaneously and gives a human-like touch in the conversation. This automation-centric solution has helped the brand save countless hours of resources manning the phone calls and making their customers wait on engaged lines and delayed responses.
Want to grow your business faster?
Get Lifetime Free Access
Make your free WhatsApp based chatbot today, automate your business with several industry leading integrations.
Start Now for FREE!