How WhatsApp Chatbots are replacing traditional IVR calls!
Sat Aug 13 2022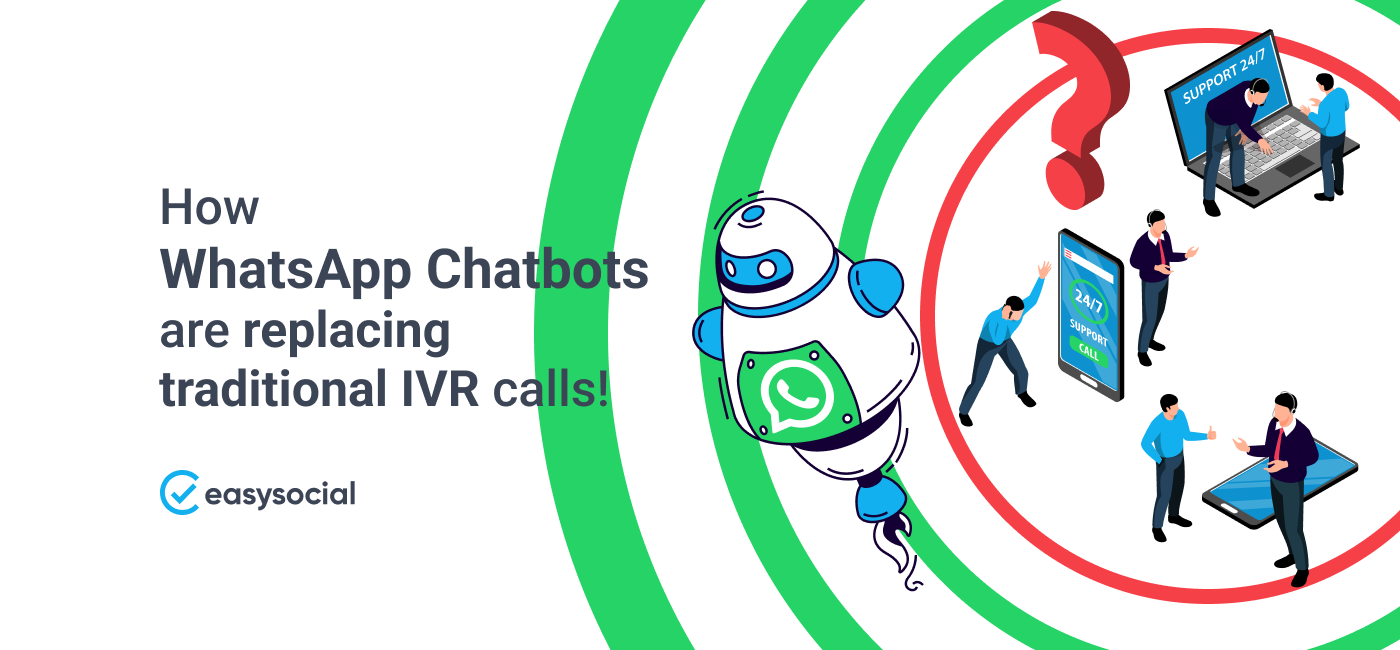 For decades, IVR has remained unchallenged, but now that Chatbots have entered the scene, automation is ready to throw competitors out of the water. While there's an ongoing debate on whether Chatbots are better than IVR call centres, we are here to take a closer, much technical look at it.
IVRs have been there for much longer and hence, make companies much comfortable in relying on them. We must not forget that there's always room for improvement, and Chatbots have made those advances possible. So, without setting many biases here, let's dive deeper, shall we?
Flexibility
You might think that the difference between Chatbots and IVRs is thin, but there's much more to it. Let's be honest; people are fed up with being 'on hold' and listening to robotic voices when all they seek is some assistance. In many ways, Chatbots are much flexible at providing prompt service, and here's how:
It's capable of receiving more dynamic responses than just numerical inputs. IVRs will ask you to press a number and then redirect your inquiry in minutes! No matter what your business niche is, your Chatbot can always be customized as per your needs. Support chatbots, Assistance chatbots, Skill Chatbots - you name it, you have it. You can easily edit your chatbot interface and make it as human-like as you wish. Try a demo of EasySocial to see how real chatbot conversations can get. This property of Chatbots being able to carry out human-like conversations make them gain a brownie point! Beyond Customer Support
When they say 'nobody can hear a person scream on IVR calls,' it is true because we can't believe that it's 2021, and people still have to wait for hours to get in touch with the customer support executive!
With Chatbots, your customers can seek support instantly. Not just that; a Chatbot will also help you create brand awareness by sharing more information (through multimedia) and help you maintain the customer base (without sounding clingy!)
Also, the customer can do much more with just one tap- place an order, fill out feedback forms, edit their information, etc. Now, that's a dream of every brand, right? In fact, 33% of customers prefer Chatbots for making their reservations at a restaurant.
Lead management
A traditional IVR call centre may not be able to filter quality leads and push those leads for conversions, but with a Chatbot, it's now possible to do so. Qualifying leads manually can leave you with light pockets since it's a resource-intensive task that needs trained individuals managing leads for you.
A Chatbot can help you automate pre-sale inquiries and filter out the high intent ones from the redundant ones, which can help you save muckle of time and money on resources. This lead management is also based on a demographical filter which helps the sales team target the right customer.
Data Sharing
So when you give a call to an IVR call Centre , they ask you to press a number that will take you to the desired assistant. In the case of Chatbots, you can simply type out your concern, and the assigned executive will solve your problems within minutes. Customers can also share images and other files which they need for better assistance through the Chatbot.
Not too hard on the pocket
Chatbots are always cheaper than IVR setups and also save the company the trouble of hiring the resource. When you choose automation over manpower, you end up making the system more efficient and less costly.
You can save as much as 30% on customer servicing by choosing automation. An IVR call centre agent will cost you $15- $200 whereas, a virtual assistant will only cost you about $1. Not to forget, manifold inquiry count, 24x7 assistance, and super-fast response time come as a bonus.
Public Opinion
This could be one of the major drawbacks of getting an IVR - it's universally disliked! People tend to volume down their phones and rather not use your product again than deal with the cumbersome process of seeking assistance through these agents.
Chatbots, on the other hand, are increasingly gaining momentum amongst customers, and people love the fact that they can place a replacement for their order at 2 AM. That too, hassle-free, within just a few taps. This is why the average satisfaction rate of bot-only chats is 87.58%.
Here's an easy comparison of Chatbot and IVR:
It has now become evident that Chatbots are getting positive responses from customers and businesses are adapting to automation, now more than ever. If you're a small business, just starting out, here's a link you must check out! Take a demo of EasySocial today and see why brands like Honda, Dentsu, and Resonance are relying on us for their customer engagement needs.
EasySocial is a supercharged Whatsapp chatbot that helps customers gain top-notch assistance at one of India's most preferred social platforms. The Chatbot interaction feels like you're talking to a human who happens to have flashing speed, multimedia data sharing abilities, and round-the-clock support for you.
Want to grow your business faster?
Get Lifetime Free Access
Make your free WhatsApp based chatbot today, automate your business with several industry leading integrations.
Start Now for FREE!