Top 5 pros and cons of WhatsApp Business!
Sat Aug 13 2022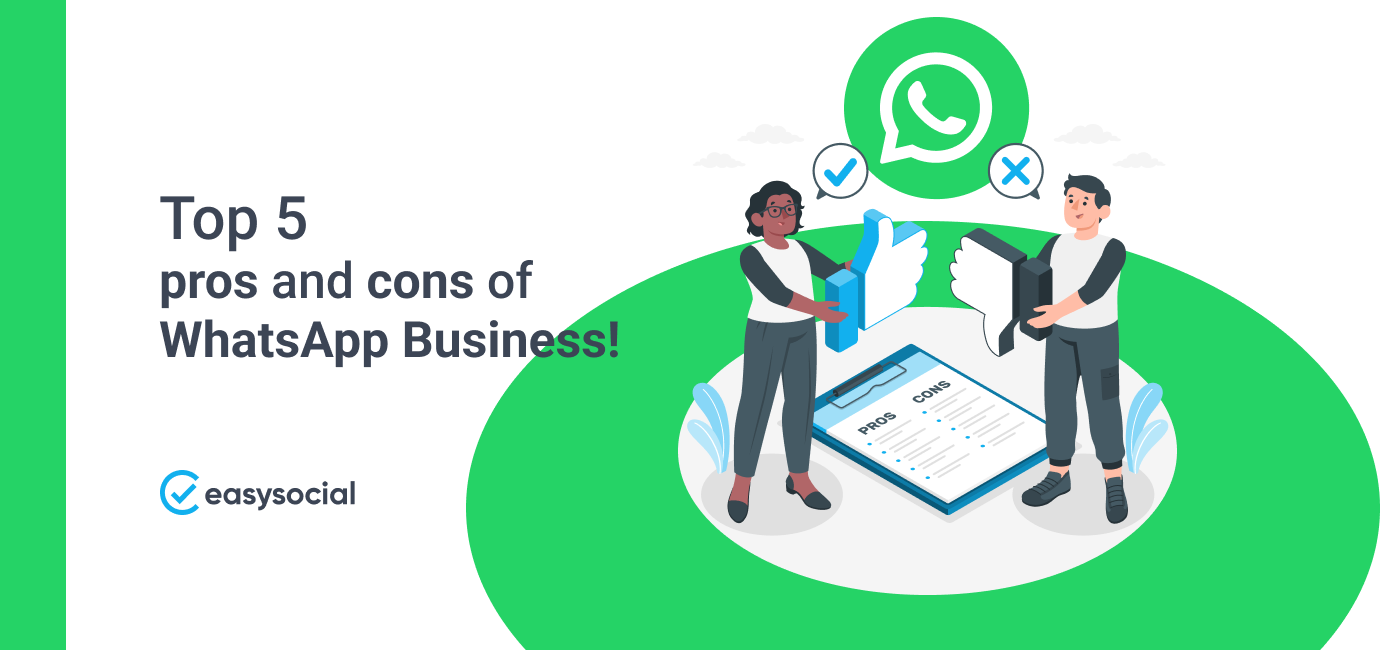 With about 2 billion active users, WhatsApp is in a close race with its parent company Facebook. In the first quarter of 2021, the popular social messaging app saw a whopping 38.8% growth in downloads as compared to the last quarter. Clearly, WhatsApp is gaining more popularity across the globe and not just from people who want to stay connected with their friends and family but also from big and small businesses. How is that, you ask? The answer is WhatsApp Business - a service offered by WhatsApp that is specially designed to cater to businesses of all capacities.
WhatsApp caters to a huge chunk of internet users, irrespective of their age, and that's the biggest reason why almost every business can find its customers on the app. In this blog, we shall have a look at what makes WhatsApp Business a hit and its pros and cons. Also, if you stay with us till the end of this blog, we'll tell you how you can enjoy similar benefits under less cost and better services.
Key features of WhatsApp Business
There's a lot to explore once you go official on WhatsApp, but for now, we'll look at some of its top features. If you want to dig deeper into some more nifty information on WhatsApp Business, you can check it out here.
1) Business profile
When you get WhatsApp Business for your business, your profile instantly becomes professional (it's in the name!) Your customers will not be chatting with a human or bot customer executive but your brand, and that's a big element in constructing a good brand image. Your customers can find all the crucial information about your company through your business profile. Information such as business name, description, location, working hours, special announcement, product catalog, website, email address, etc., can be easily viewed by users.
2) Automated conversations
When a customer reaches out to you, it's always polite to greet them well and introduce your brand. With WhatsApp Business, you can do that effortlessly by automating a greeting text every time someone messages you. You can also set 'away messages,' which will be sent to people who are trying to connect with you after business hours. This helps your business boost customer engagement, and anyone who texts you will feel valued.
3) Shop & pay
Through this uber-cool feature, businesses can now help their customers shop at WhatsApp and make payments in the same app. This means that they can set up a product catalog, put good descriptions, chat with their customers, and close a deal effortlessly.
Pros and Cons
There's much more you need to put into consideration before you hitch your business to WhatsApp. Let's have a quick look at the pros and cons of using WhatsApp business.
The advantages
1) It's free!
Who doesn't love free stuff? One great thing about WhatsApp Business is that it offers all those amazing features for free. This is unless you're going for the WhatsApp Business API account. Click here to read more about the Whatsapp Business API and whether or not your business needs it.
2) Ease of use
WhatsApp is practically one such app that has become a part of our daily routine. This is credited mostly to its clean user interface, which makes the app easy to use for people of all age groups. This user-friendly approach also makes the app popular and hence, a one-stop destination for businesses to set up their customer engagement.
3) The features
Like we mentioned before, the features that WhatsApp Business offers are good enough for small, medium, and big businesses. You can set up a business profile, send custom greeting messages, label your conversations, set 'away messages,' reply instantly, take multiple inquiries with no waiting time, create a product catalog, and receive payments - all for free!
The Disadvantages
1) Limit inquiry resolution
When you're using a WhatsApp Business account, you can only manage it from one device. You can't assign your customer engagement operations to multiple agents, and hence, the overall efficiency isn't great. This becomes a problem for medium to big-sized companies as the number of incoming inquiries is higher, and there is a limited human resource that can handle all of them at once with equal efficiency. However, you can go for WhatsApp Business API, which makes your conversations automated, and multiple-user enabled. But it will cost you some money, pulling out one pro from our list.
2) Lack of CRM Every business's ultimate goal is to boost its CRM system and become smoother and much streamlined in customer servicing. In the case of WhatsApp Business, you do not have any options to take your data in a CRM system. This lack of interface limits your conversations and customer data to one place where it can't be analyzed automatically. 3) Not for everyone WhatsApp Business offers you to put as much information about your product and company as possible, but it's not custom-made. In essence, all businesses will have a similar set of features they can offer to their customers. Suppose your business requires a pre-set of texts or automatic brochure sharing when a user asks about your stores, WhatsApp Business won't be of any help.
Hey! Don't be disheartened; we have something that can help you with all these cons and many others. EasySocial is a bespoke automated WhatsApp ChatBot that gives your business more than what WhatsApp Business does.
EasySocial: one solution to boost client-engagement
Let the power of automation unfold as you set your business for an unmatched customer-engagement experience. EasySocial is an automated chatbot that enables you to interact with your customers while going auto-pilot, sharing location, multimedia, brochures, etc. The platform is integrated with WhatsApp Business, and thus, all your customers can be found in one place. Handle up to 1800 inquiries simultaneously and manage all your customer data with a unified lead management system. Learn more about EasySocial and start engaging with your customers like never before; book a demo now!
Want to grow your business faster?
Get Lifetime Free Access
Make your free WhatsApp based chatbot today, automate your business with several industry leading integrations.
Start Now for FREE!