A Guide to Set-up WhatsApp Shop Easily
Sat Aug 13 2022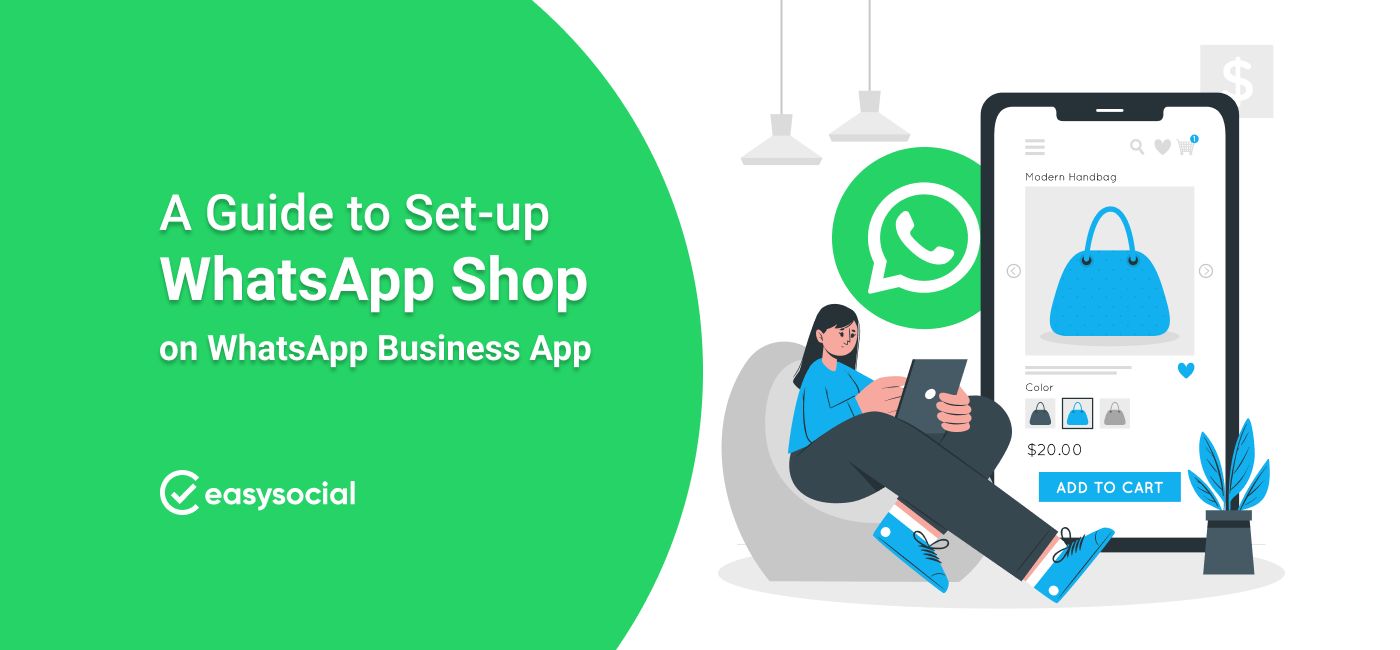 What's a Whatsapp Shop Whatsapp, in an attempt to make their users' experience more enriching, has introduced the Whatsapp Shop feature. It offers the Whatsapp business account owners to cater to its customers with e-commerce-like experience. A business can show its entire range of products by putting a catalog for its customers to check. The customer can add multiple items to their carts and shop all the products by placing an order.
This bold move has helped several small and medium-sized businesses gain an upsurge in their sales. Whatsapp Shop acts as a gateway to conversation commerce. However, is Whatsapp Shop going to be the next big tool for businesses to blow up their sales? Or does it come with room for improvement? We shall discuss that in this blog, so keep reading.
Set up your Whatsapp Shop in 3 steps Setting up a Whatsapp shop is no rocket science; all you need is a Whatsapp business account. Simply follow these steps, and your shop will be ready to be explored!
1) Update business info. The first thing you want to do is put a relevant profile picture and name, along with a description that talks about your business. You can tell about your latest collection, policy changes, location, payment methods, etc., in the description box.
2) Set your catalog Next, you need to click on the three dots in the top right corner. It will take you to a menu bar. Click on Business settings and then go to Catalogue.
Your profile picture and description will be shown here at the top. If you wish to edit this information, you can do it by following the first step.
Next, click on the + button in the bottom right corner. Now you can add images of the product, its name, price, description, product link, etc.
Once you've entered all this information, you can click on Save.
In a similar manner, you can add more products or services to your catalog. Easy, right?
3) Start sharing You can now share this catalog with your customers or in groups and promote your product and services with just one click!
The limitations Whatsapp Shop surely gives a way to small businesses for securing customers, but it comes with some cons as well. Let's briefly discuss the drawbacks of using Whatsapp Shop and if it's good enough for your business?
No categorization of products
1) No direct payment Whatsapp Shop doesn't give an option for the user to directly pay for the product or service and hence creates a gap in the buying process. Having a direct payment option enhances the chances of a customer buying your product instantly. When delayed, carts are often abandoned.
2) Lack of automation When you're using a Whatsapp shop, you are stripped of the greatest boon of automation. The business has to handle everything manually as Whatsapp Shop can't be user with Whatsapp Chatbot. This means that while you're leveling up on your business promotions, you are slowing down on focusing on more important things.
3) Single user One major limitation here is that your account can be operated only on one device. You can't have multiple people taking care of your business while you oil the engine. Also, logging into your account on desktop (Whatsapp Web) will need you to scan a QR code every time. The lack of a multi-user system restricts your speed and scale of customer engagement.
4) No categorization Products listed in a business's catalog are shown in a single window. There is a major lack of categorization of products which helps both, the buyer and seller to segment their products and services. A user who's looking for one particular product will have to go through the entire catalog. If there's a proper categorization of products, then people can buy them more quickly and effortlessly.
5) Limited features The overall User Interface and features of the platform are limited and not much flexible. You only have certain features which help your customer view your business's catalog. More options can be inculcated to make it more interactive, feasible, and practical. Features such as elaborate product description in form on video, document, or links can be really useful. People need a much more efficient system which allows them to place an order in real-time, modify their orders, and check for the updated information by the business.
Breaking the limitations Brands that rely on Whatsapp for their conversational commerce will have to wait to reveal more features. Here's where EasySocial comes into play - a conversational commerce tool that is one step ahead of Whatsapp Shop.
EasySocial gives you an experience of shopping on Whatsapp but with extra features such as a payment gateway, order placing, automated chats, multi-user platform, and so much more!
Businesses like restaurants and grocery shops can gain massive benefits from the platform as it enables quick customer interaction, real-time updates of new stock/ products, and a centralized system.
To learn more about conversational commerce, Whatsapp chatbot, and Easysocial, keep hooked to this space. We publish blogs to keep you updated and help your business grow by giving real solutions that make a difference!
Want to grow your business faster?
Get Lifetime Free Access
Make your free WhatsApp based chatbot today, automate your business with several industry leading integrations.
Start Now for FREE!