Why Your Business Needs WhatsApp Chatbot in 2021
Sat Aug 13 2022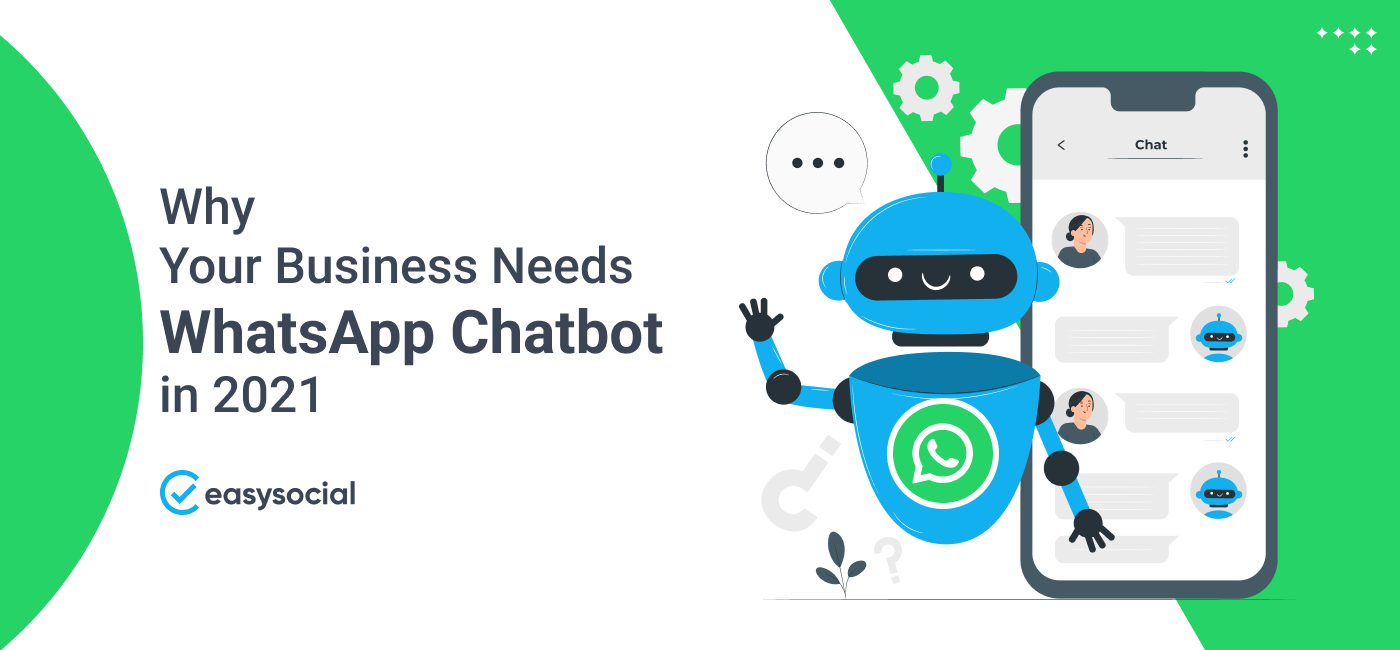 As the technical advances are amping up, there aren't many reasons left as to why your business shouldn't be friends with automation and AI. Now is the age and day for social media to take over and put your sales on autopilot. Can you imagine a morning when you don't wake up to checking Whatsapp messages - first thing? No, right? Now, imagine how relieved your customers will be when they find out that they can shop or interact with your brand on Whatsapp? Cool, right?
Interestingly, WhatsApp messages have an engagement rate of around 70% compared to other ways of communication. So let's dig into more reasons why your business needs to get that Whatsapp business account run by a Chatbot ASAP!
Whatsapp marketing With over 2 billion monthly users, it's a no-brainer that Whatsapp business is one of the best ways to get started on your automation journey. There's a lot that you can achieve with your Whatsapp business account integrated with a chatbot.
1) Constant touch Studies state that 50% of customers expect a business to be available 24/7. A Whatsapp chatbot can reply to your customers instantly, no matter what time it is. Not just that, it can handle multiple (up to thousands) chats simultaneously without any limitations.
2) Promotion The only Whatsapp forward we need to make these days is of discounts, offers, and promotional codes! You can send your promotional messages to your customers and even personalize them as per their needs and key demographics within seconds and let your bot do the rest for you.
3) Market research Your customer's engagement style will also help you understand them better. Also, you can collect feedback and reviews from your customers without having to incessantly call them. Just send a form by the end of the chat (once the inquiry is resolved), and you will have your research material.
4) Targeted audience
We often end up wasting a lot of time and money in targeting the wrong audience. With Whatsapp Chatbot, you only engage with the audience that has interacted with your brand before - as a customer, potential buyer, interested buyer, etc. So when you shoot an automated Whatsapp message to your target group, the chance of it converting into leads is high!
Customer Engagement Whatsapp chatbots are the best way to stay close to your customer without bugging them. As many as 67% of customers worldwide prefer messaging chatbots for customer support. Here's how you can refuel your customer engagement using a Whatsapp bot:
1) Personalized, customized, always available One of the best reasons why your business must get a bot is that they are super flexible and always at your customer's service (and who doesn't love that?) You can keep it customized as per your targeted group and edit new information. It acts like an omnichannel that can keep your customer aware of all your latest information across online platforms.
2) Media Sharing Help your customers reach your store (location sharing), read about your latest product (pdf sharing), watch your new video (video/ image sharing) and become more aware of your brand. Media sharing in Whatsapp makes customer engagement easy, diverse, and highly effective.
3) Human-like interactions Got as those days when bots are just bots; now it's time for human-like bot conversations. Give your customers a personal touch by using a bot that interacts as a human does. It makes your customer feel valued and heard. You might want to check out EasySocial to see how a human-like Whatsapp bot works!
4) Follow-ups Ask your customers if they have made their minds yet, without spamming. Just shoot a Whatsapp message that will remind them to buy that shoe in their cart right away! People tend to respond to their Whatsapp texts much faster than their emails or text notifications.
Driving Sales Simplify the sales process and take the load off your shoulder with automation that can crack those numbers for you! With Whatsapp Chatbot, driving is now easier and manifold efficient; here's how:
1) Buy, replace, and buy again! Life's pretty awesome when you can just shop on Whatsapp. Now, this is an understatement, and it's time for businesses to leverage it. Whatsapp chatbot can enable your customers to place new orders, edit information on the existing ones, and check out the latest range - all in one place!
This sales process is as good as it gets!
2) In-built payment gateway EasySocial offers an in-built payment gateway that's 100% safe and secured. So now your customers can shop on Whatsapp and pay without having to visit any 3rd party site. This will help you empower your customer's purchasing experience.
3) Help in purchasing & decision making People are often lost or misguided when they are buying something new and signing up for a new service. This is where your Whatsapp chatbot comes into play. The chatbot can help your customer filter their needs, select one option from the recommendations, and find out all the information they need to make a firm decision. Call it a virtual assistant but more personalized.
Why Whatsapp? Whatsapp is one of the most popular platforms that connect people, which caters to over 29 million messages every minute. If you compare Whatsapp with other platforms with bots such as Facebook and Telegram, you will find out that people tend to use Whatsapp more than other apps. Not many people trust Facebook spams, and a fraction of them don't even know what Telegram is. People feel comfortable using Whatsapp, and it has become a part of their lifestyle. Whatsapp has an engagement rate of 70 percent, which makes it ideal for brands.
EasySocial has devised a supercharged Whatsapp Chatbot that takes your customer engagement to the next level. It offers everything that a brand needs to make great connections with its customers and generate more leads. You can also get all your leads unified and filtered in one place. Click here to find out how! Brands like Honda, Dentsu, and Resonance trust EasySocial for their customer engagement, and you can also get a free demo now! Get in touch with us today, and let us give your business a new way to interact with customers digitally!
Want to grow your business faster?
Get Lifetime Free Access
Make your free WhatsApp based chatbot today, automate your business with several industry leading integrations.
Start Now for FREE!