Why customer engagement should be your business priority
Sat Aug 13 2022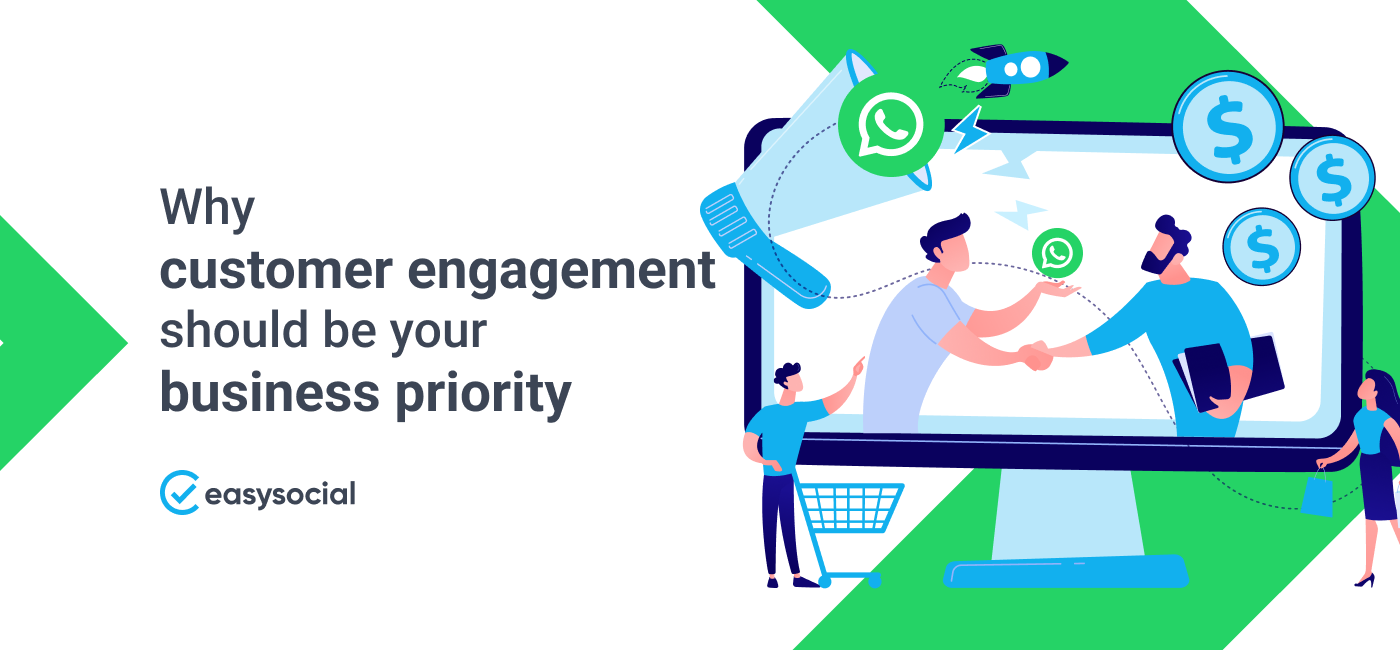 Gone are the days when promoting a product and upselling more was misconceived as "pushing" the brands. Now, in the age of growing social media where everyone wants to speak and be heard, the customers as well have been very keen to engage with the brands they've put their trust into. To be able to mingle up with customers on social media platforms, be it via interactive Q&A sessions, public polling, or any other source only leverages the loyalty of people to your brand.
Multinational Companies like Nike and American Express have understood the importance of establishing this interactive dialogue between the customers and their brand, giving their brands a new avenue to value points for sales and marketing. With the arbitration of WhatsApp ChatBots now, we can see almost every big and small brand diving deeper into customer engagement and they're winning!
Understanding Customer Psychology
Interacting with customers is all about engaging in a two-way conversation that explores their ideas and point of view. While they are buying the products, what our customers want is to become a part of the community and get services that are worth their valuable time and get them to connect. While you cannot be an omnipresent being, EasySocial WhatsApp ChatBots can be of your service to provide that undivided human-like attention. They come along with automated personalized insights which can fill up the lacuna between the customer demands and brands with a better understanding of their demands, budget, limitations, and expectations.
Personalized Attention
The conventional marketing belief is that the more the product is visible to the customers the more is the chance for it to be sold. While it might be true to some extent, the new era of business and marketing intertwines the customer demands with a quality product that feels fresh and extra customized. The absolute attention with one on one conversation equates to a winning product with streamlined attention to details and requirements.
Learn and Grow
How the brands tap into the interests of customers is what generates interest and communication standpoints for the crowd. Engaging with every incoming inquiry and opinion at a large scale, and reaching out to the perspective of a group of people not only improves the connection that people have with the brand but also helps improve the services and brand image.WhatsApp ChatBots efficiently collects data, organize and stores them such that you can access it anytime applying filters with no fuss at all, with EasySocial's dynamic lead management system.
Outstanding Sales
Having a constant media presence as well as a continuous conversation with the customers accustoms them to have faith in you and your brand. While platonic interaction can still translate to bills, a viable ongoing conversation with the customer builds a foundation of trust that earns your extra candy points in terms of emotional connection that gets them to buy your product more. WhatsApp ChatBots make your consumers feel heard making them more susceptible to stay in space, see more, and get more inspiration to buy products to make their life better.
Customer engagement across industries
Various leading industries across the world from automobile to pharmaceutical be it BMW, Make My Trip, Tata Sky or Dawaa Dosth all have started to invest in the approach of engaging with the crowd with the use of WhatsApp ChatBots. Growing beauty brands like Nykaa have now come to terms with the fact that this can smartly amplify the business presence of brands and products and enable to build a community that actively administers and takes consumer responses to improve the products and services. Now with the intervention of WhatsApp ChatBots, the conversations are easy along with ever-increasing databases of customer dubieties that have become more manageable and accessible. The engagements have been curated and upgraded tremendously.
Conclusion
While Social media platforms have helped heighten the brand value points for customer attraction, WhatsApp ChatBots still remain on the top for its accountability is immensely undeniable when it comes to proper one on one customer interactions and providing extra services with ease.
EasySocial WhatsApp ChatBots is one among such novice innovations with a smart automated system that can ease the division of work and attention for you. It is not just any ordinary ChatBot, it has automated sales management and customer services -for a better grip on customers' intent, secured payment gateways-for easy and safer transfer of money.
Knowing the necessity of getting the crowd, the EasySocial WhatsApp ChatBots gives you real-time query resolution with a 24x7 attention span, meaning it will never run out of answers. While getting feedback is an important lengthy process that would require discretion and systematic ordering, EasySocial WhatsApp ChatBots does all these tasks for you in the blink of an eye and even better database collections of feedback and related details. They might just be Bots but they do not let this affect the amount of care and connection of the conversation, providing you personalized human-like interaction. To check out and try EasySocial WhatsApp ChatBots, click here and experience the best services for yourself.
Want to grow your business faster?
Get Lifetime Free Access
Make your free WhatsApp based chatbot today, automate your business with several industry leading integrations.
Start Now for FREE!