Why WhatsApp Chatbot for Real-Estate Industries Is a Must-have!
Sat Aug 13 2022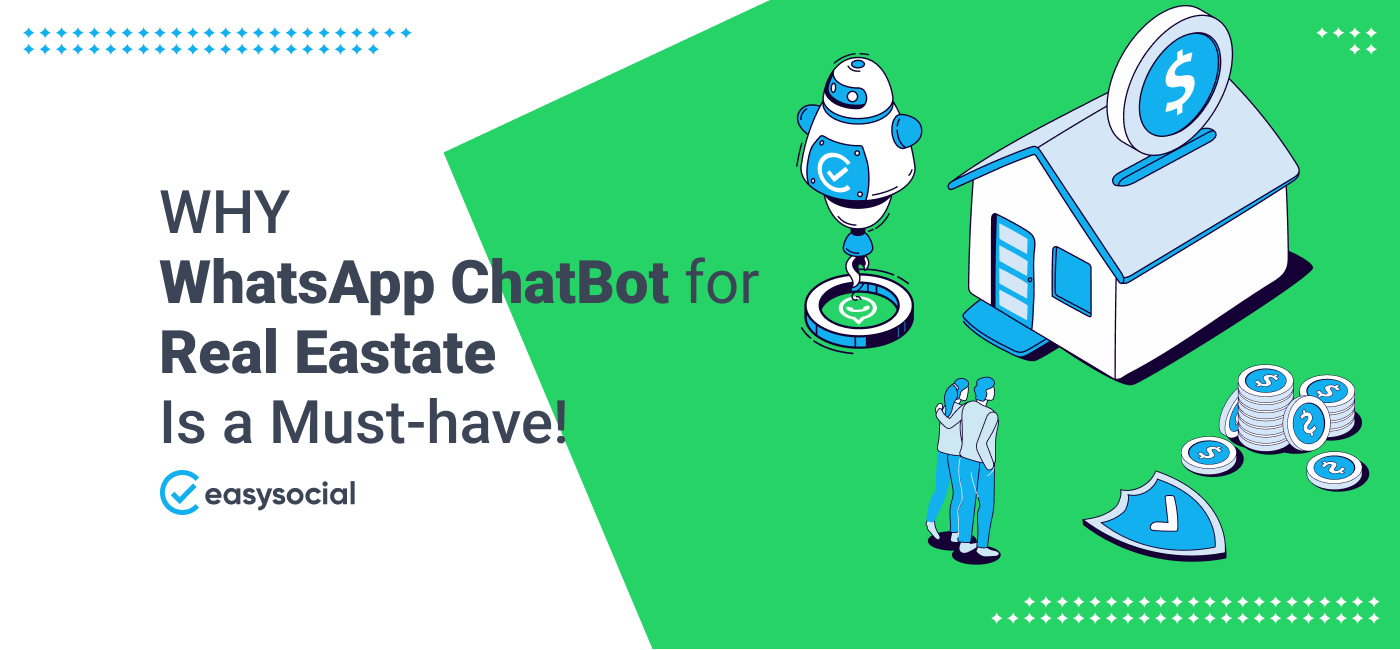 The population is on the rise, and so is the number of buyers interested in buying and investing in new properties. Technology keeps on making our lives and the world around us flexible and easier, which is why now connecting and contacting your property buyer or seller across the world has become extremely accessible. WhatsApp has become increasingly popular over the years, stretching its arms from personal to professional uses. Nowadays, in this advanced and fast-growing world, customer outreach has improved exponentially with the intervention of WhatsApp WhatsApp ChatBots. Our EasySocial ChatBots come as a complete package when it comes to providing support and services to the clients, hence proving to be of great utility and efficacy.
6 reasons why a real estate agency needs WhatsApp ChatBots
Attentive support
Real estate is not easy bread to bake, and when it comes to investing in properties, customers have a lot of questions in regards to the area of the property, the facing sides, room structures, etc. This can be answered and taken care of almost instantaneously by EasySocial Chatbots, which comes along with real-time answers and better support. It can tend to and handle the queries that come ambushing, giving undivided attention to almost 1800 unique doubts at once.
Property Listing
Time and quality are vital when it comes to buying, selling, or investing in properties. EasySocial ChatBots are here to ease your search with a detailed listing of the properties that have caught your eyes. You can easily filter out the property of your interest based on the type of housing required, Cost of rental and lease, Area of the property in sq. feet, and whatnot. The WhatsApp ChatBots's Automated customer management services help look out for you by sharing the Multimedia files like videos and images related to your scouting and send brochures, business cards as per all your prerequisites.
Schedule property visits
Fixing meetings based on the availability of the seller and buyers have always been a hassle. The WhatsApp ChatBots not only just act as your windows to providing the best property listings, but they also can help you schedule meetings with your seller or investor. Believe us when we say, it has never been easier!! The customer can get started by sharing a few basic pieces of information regarding time availability, and then they get dedicated time slots for meetings generated by the WhatsApp ChatBots in the blink of an eye. It's that easy!
Property Navigation
Revolutionizing the way we go about sharing important pieces of information, WhatsApp ChatBots come in real handy when it comes to sharing property-related multimedia and locations. EasySocial Chatbots diligently shares the location and landmarks of your desired properties. While this seemingly easy process may go berserk in moments of rush, EasySocial Chatbots save you time and route navigation hassles.
Understanding Consumer Intent
As properties are not something you can exhibit, communicating and catering potential leads as to what the broker or agent has to offer and what the consumer needs, is a meticulous task. EasySocial ChatBots understand your needs, without losing any attention to details and cater to needs as well as humans. While conversations about budgeting, types of Properties, and locations are not easy, to begin with, giving immediate answers with accuracy is the task of our WhatsApp ChatBots.
Collecting Applications
When it comes to business, it has always been a daunting task to collect data like - Rental applications, loan details, down payments, insurance details, etc. With WhatsApp ChatBots, you can forget burying your heads into heaps of paper bundles, which has only brought frustration along. EasySocial not only helps you collect data efficiently but also masters in managing and filtering them for future use- all under a unified platform.
Why WhatsApp ChatBots over other services
Real-time enquire resolution
This industry is complex, and all the processes need a deep understanding and precision over knowledge of property laws, taxes, Market values, and whatnot. While the trail of questions is never-ending, you can always rely on WhatsApp ChatBots to relay important queries-related answers without loss of any time. Saving the day with exact detailed knowledge and communication support that is demanded of consumers almost immediately.
24x7 availability
Word for word, they are literal bots. WhatsApp ChatBots do not need tea breaks or time-outs to satiate themselves, and with a huge database full of precise details and samplings, there's nothing that they can't avail at any point in time. Even during your Non-business hours!! So now you do not have to miss out on any customers inquiries while you are making your business run.
Automated follow-up process
Taking on updates from thousands of clients can be troublesome, while, on the other hand, missing out on follow-ups causes the loss of lead. WhatsApp ChatBots have automated instructions that allow them to get the review and sort out the leads at regular intervals, if any. This ensures that you get better results and see a whole span of real estate and property deals with full efficiency and minimal ruckus.
Conclusion
The world is moving at a faster pace, every little action and operation is required to be looked after and cared for almost promptly and with swiftness and precision. While we are still trying to work 20hrs a day to be more efficient and productive, let's face it - we can't do it all at once. EasySocial Chatbots are remarkable investments into the pages of futuristic lives that you've envisioned. Almost every industry has now started to rely on WhatsApp ChatBotsqueries-related to get most of the jobs done efficiently.
EasySocial is not only just your usual WhatsApp ChatBots. It comes along with various Automated Sales Management, which can easily do tasks like conducting pre-sales inquiries and streamlining the customer intent. Not only are all services automated, but they can also help you with payments with its secure inbuilt payment gateways and help clear doubts with real-time personalized conversations. The contents are all encrypted and safe, so now you can maintain your work-life balance and take the back seat on these meticulous tasks. To try it out first hand, click here and book a demo now.
Want to grow your business faster?
Get Lifetime Free Access
Make your free WhatsApp based chatbot today, automate your business with several industry leading integrations.
Start Now for FREE!